2022-2023 De La Paz Middle School Student Council Election Results!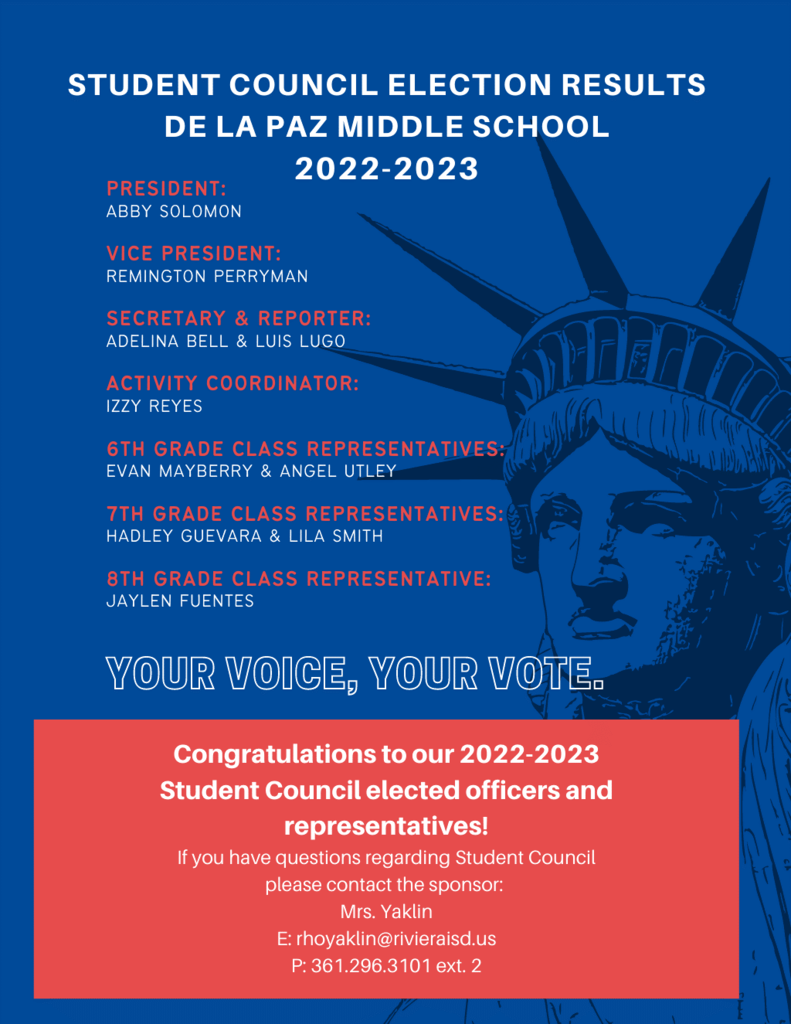 2022 Homecoming King and Queen Tommy Bueno & Gianna Cantu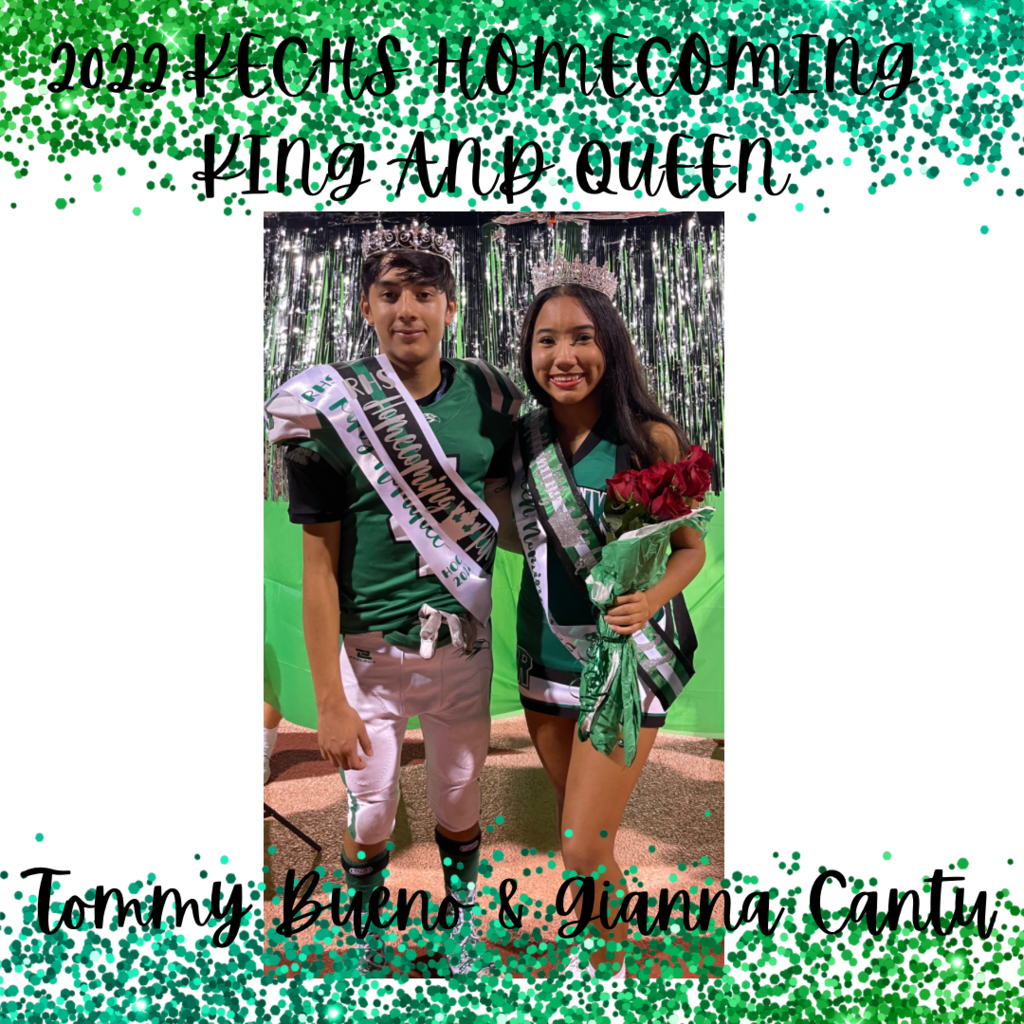 Once Upon A Homecoming 2022 De La Paz Middle School's Homecoming Week October 3rd-7th, 2022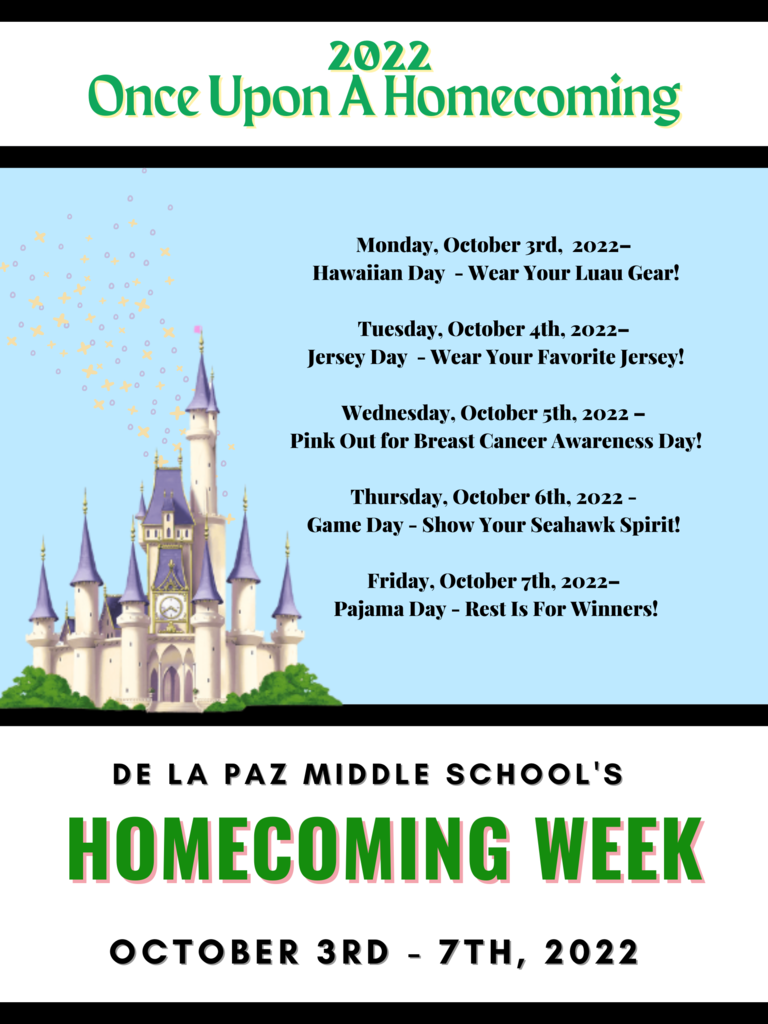 Seahawk families! If you are interested in getting a free goodie backpack from the food bank please come by the cafeteria tomorrow at 2:45. If you have any questions please contact the Department of Support Services at 361-296-3101 option 8.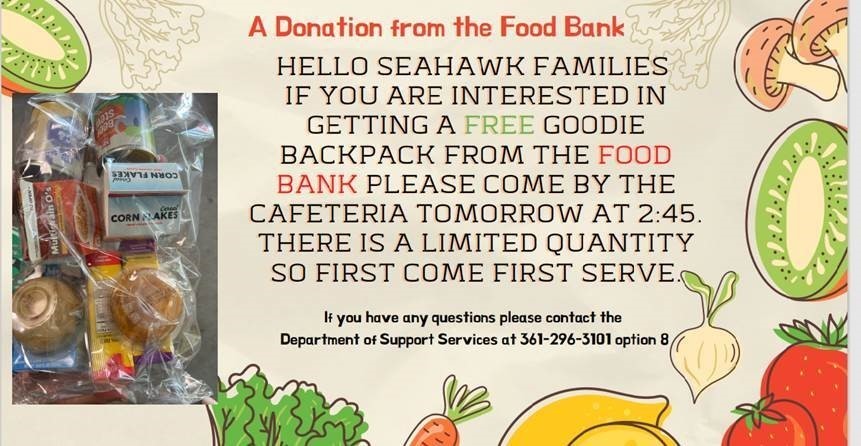 Seahawk families Please join us on September 26, 2022 and wear yellow to show support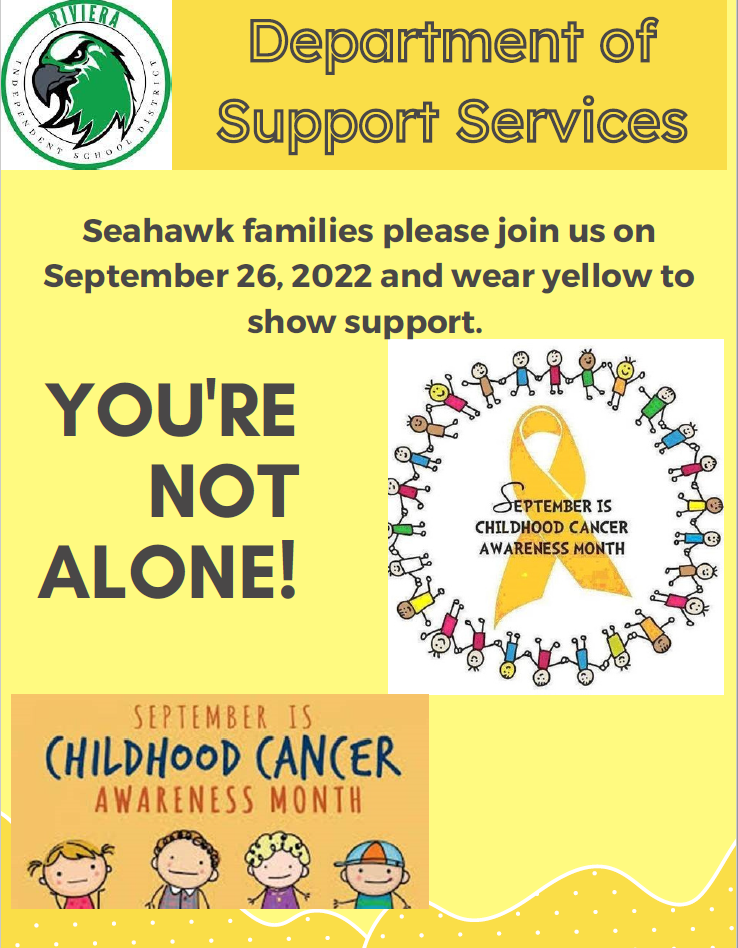 Updated Homecoming Information

Class of 2023 College aid is within reach. College aid experts from TAMUK, CBC, RSSI, and KECHS will be on site and ready to assist. October 11th 2022 4:30-6:30 DONT MISS THE NACHO BAR!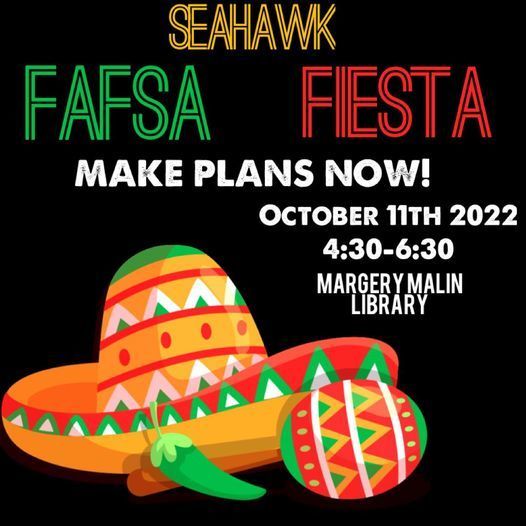 Meet us at the farm! Please plan to join us on Sunday, September 25th from 3:00-5:00 in the afternoon for our annual Ag Farm Clean Up. Everyone is welcome and community service hours will be awarded for those that volunteer their time.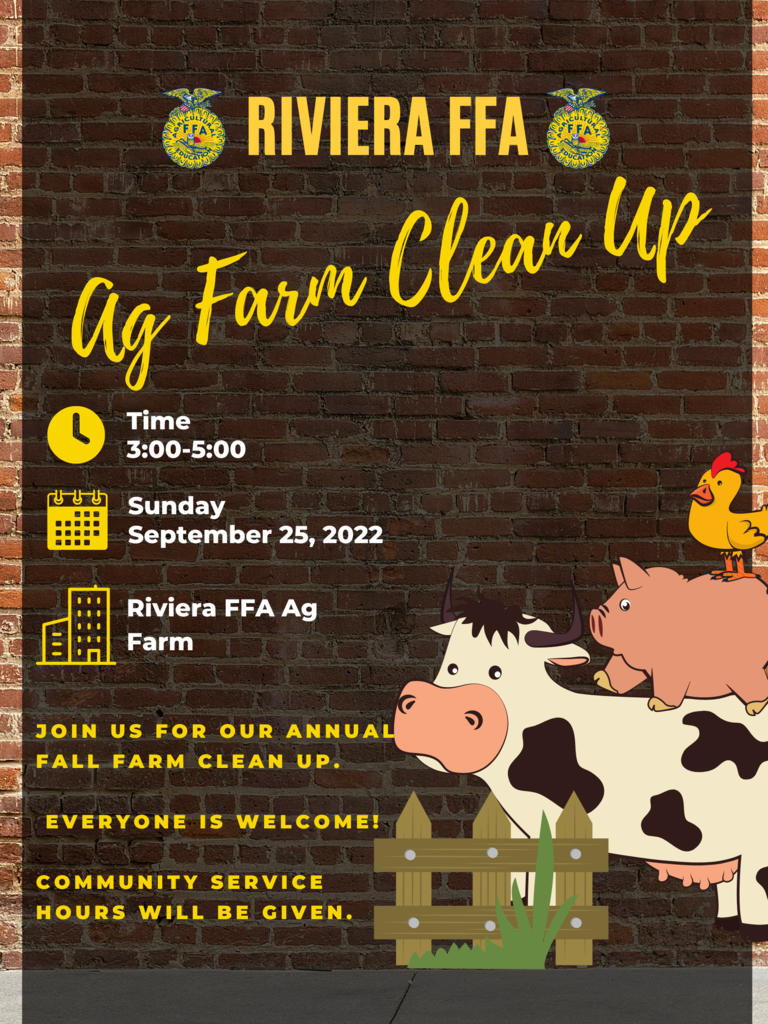 This weekend part of the Riviera FFA Show Team was busy in the barn with their projects competing at the South Texas Show Series in Kingsville. These team members brought home several awards including numerous class winners, Breed and Reserve Breed Champions as well as a few Overall Grand and Reserve Grand Champions. Show team members included Mary Smith, Abby Alegria, Owen Bryant, Aidyn Avelar, Emma Valenzuela and Carley Tyra. We are incredibly proud of the hard work these students put into their projects!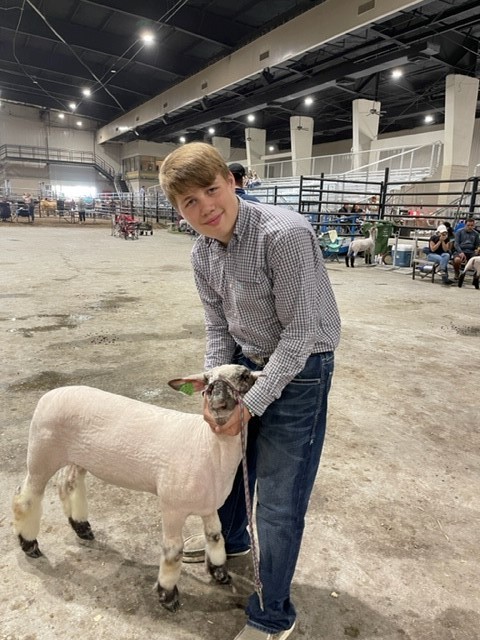 Calling all past and present Riviera FFA members and advisors! Help us to design a cattle brand for our Riviera Agricultural Heritage Complex! We are looking for a brand to take us into the future as well as celebrate our rich agricultural roots. Entries are being accepted until Friday, September 30, 2022 at 3:00pm. The individual selected as the winner will receive an award and be commemorated in Riviera FFA history. If you are interested in participating please email an advisor at
kschubert@rivieraisd.us
or
bumphres@rivieraisd.us
for the complete application. Good luck!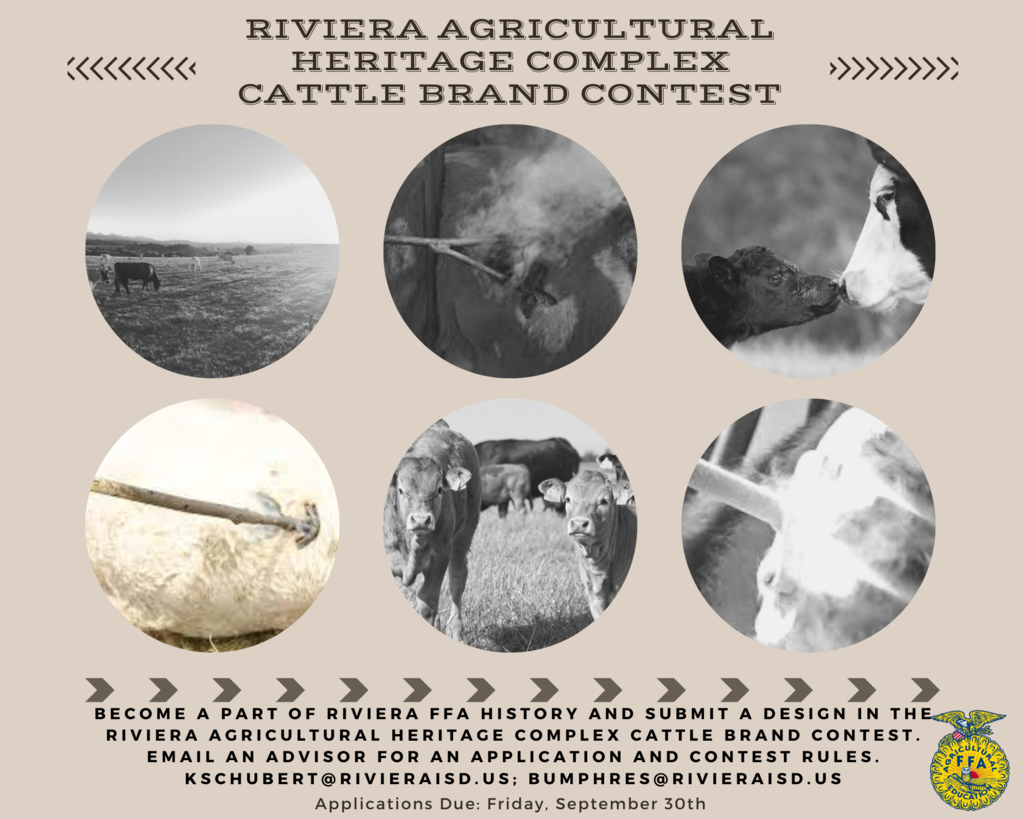 It's THAT time! The Hollywood Homecoming Parade is your time to shine.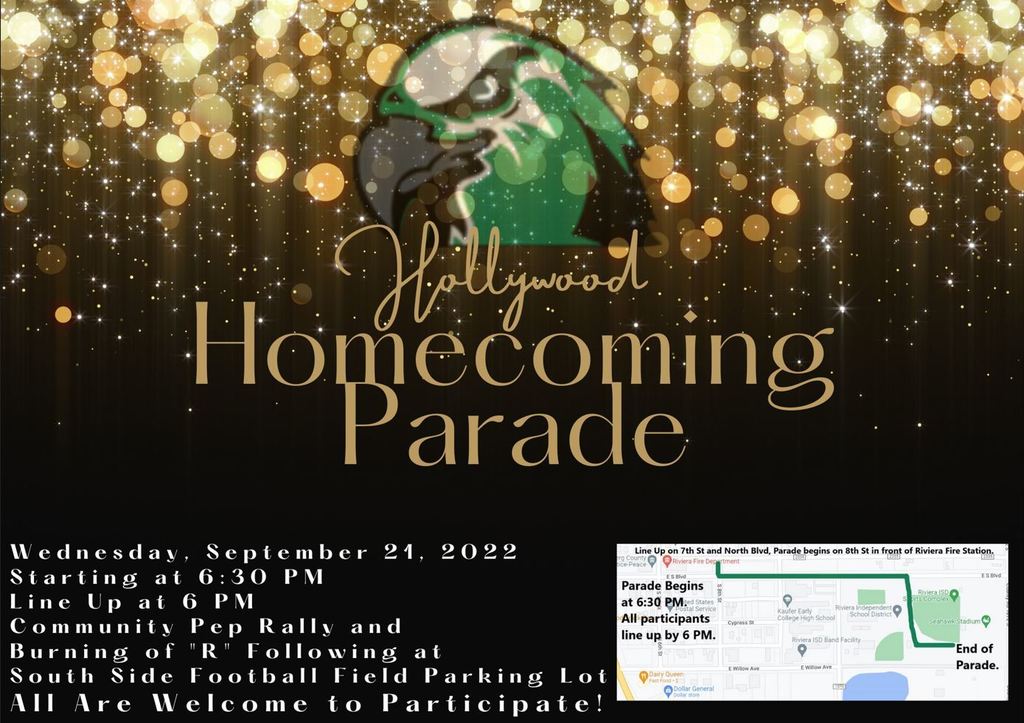 Due to an overwhelmingly positive interest in Middle School Student Council, we have extended the due date for Election Speeches. Election speeches must be: • Recorded by each candidate • Emailed Mrs. Yaklin –
rhoyaklin@rivieraisd.us
• Deadline: Tuesday Sep 20th by 11:59PM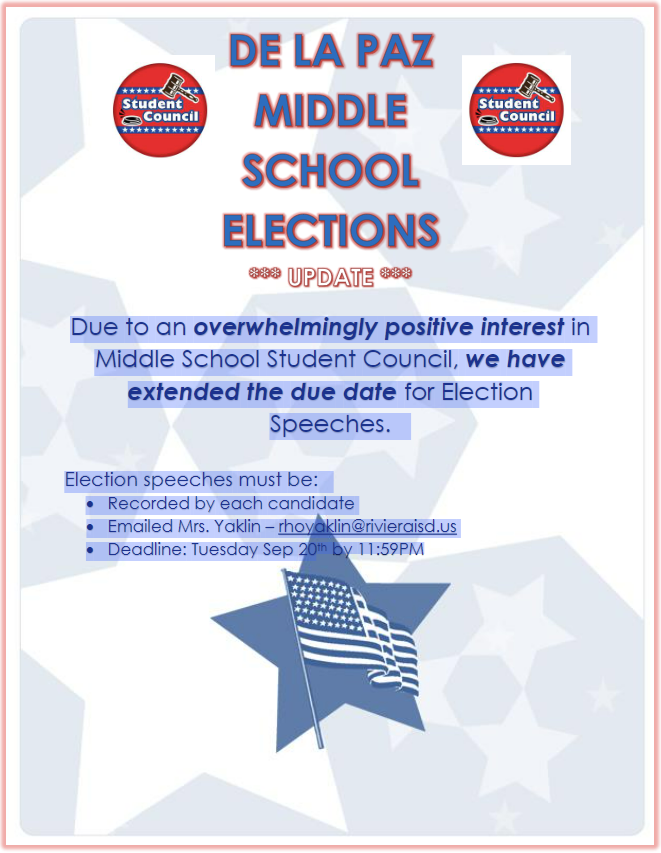 We're A Team! SUPPORT is in the blood of all Riviera Seahawks, and that is demonstrated at every home game with the wives of our coaches. Mrs. Andalon, Mrs. Amaya, Mrs. Torres, Mrs. Caranza, Mrs. Gonzalez, and Mrs. Rendon support the players and coaches with a hot meal at every home game. Here they served over 100 hotdogs to the coaches, players, and referees. Thank you ladies for demonstrating what teamwork and support looks like to our Seahawks.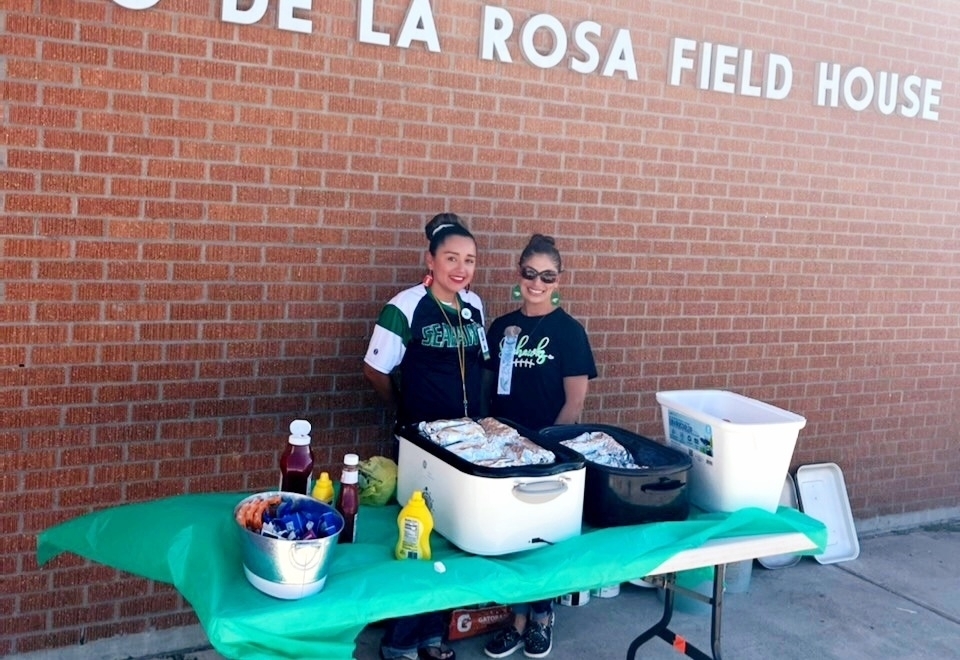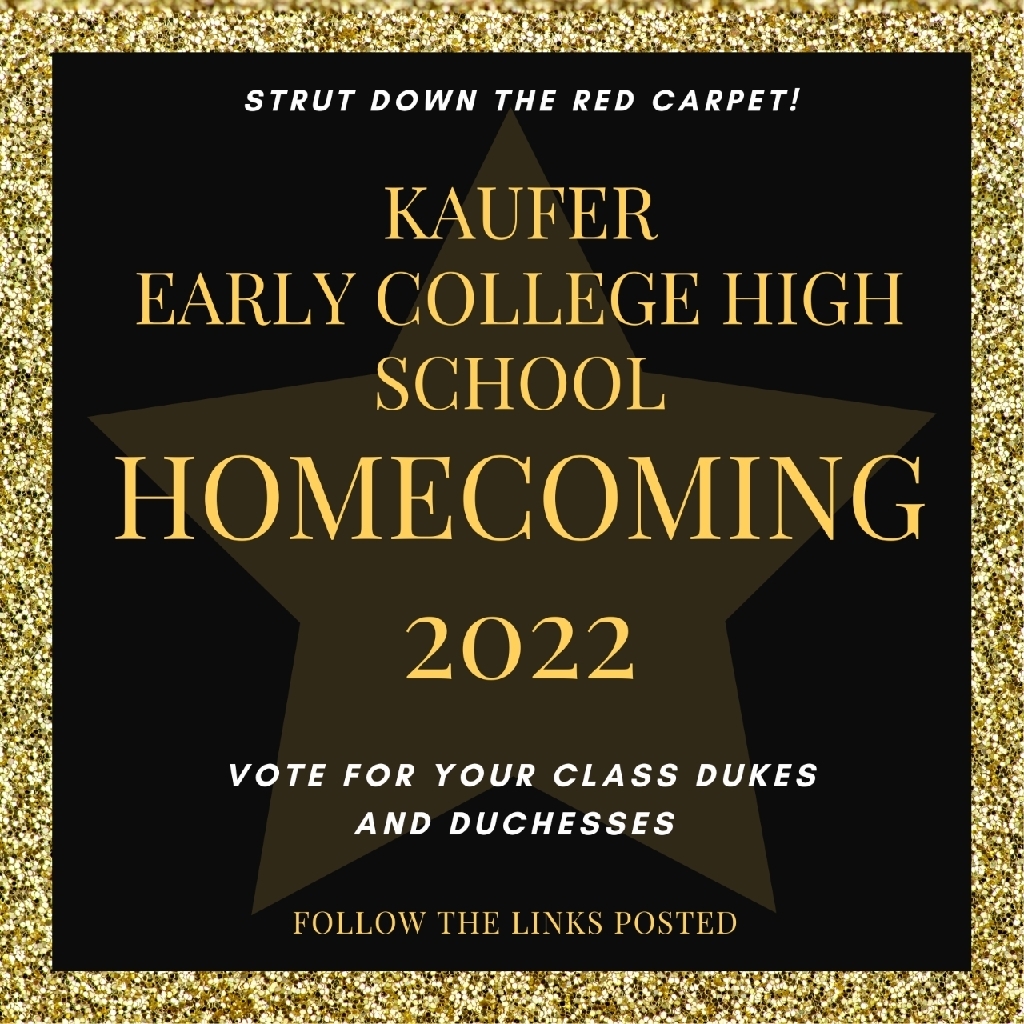 Seahawk Football Fundraiser October 1st, 11 am - 2 pm. Pick up your chicken leg quarter plate at the RISD cafeteria. A $10 donation gets you one of these delicious plates. SEE YOU THERE!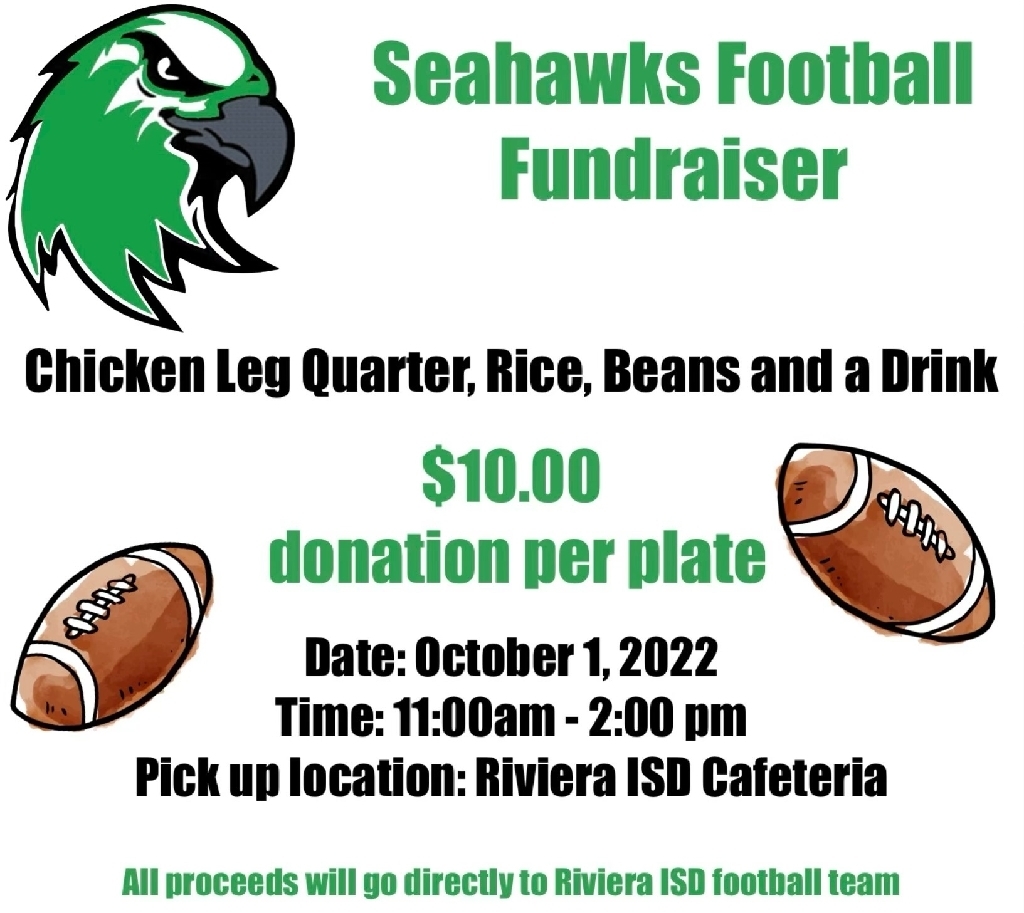 Science Rules in Ms. Garcia's 6th Grade Science class. They are having fun studying chemical changes in their class!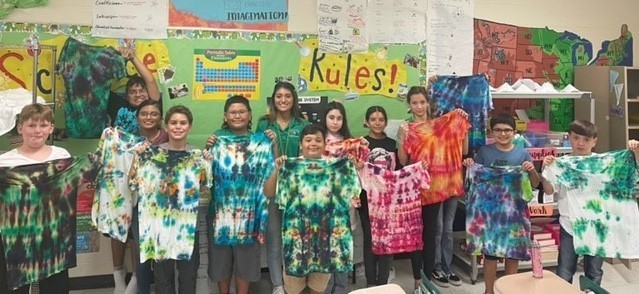 Kaufer Early College High School graduate Anyssa Tijerina joined the Early College Staff in a parent presentation for 9th and 10th grade Seahawks. Anyssa is a 2020 graduate currently enrolled in the pharmaceutical program at Texas A&M Kingsville. Anyssa spoke about her ECHS successes and how they translated to success at Texas A&M Kingsville. Parents took part in discussion about the benefits of Early College High School. Meetings for 11th and 12th graders will take place later this week. Pictured: Elias Arredondo, Anyssa Tijerina, Ellie Perez, Rebecca Arevalo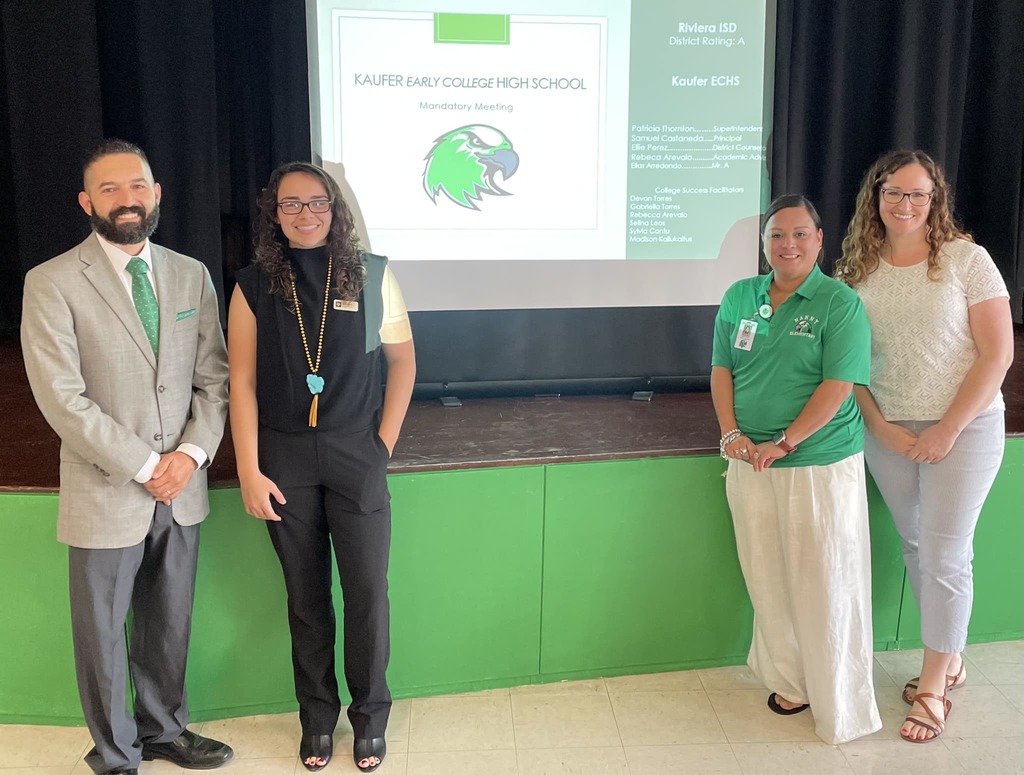 Join us for the first Middle School Pep Rally of the year! September 15th at 11:10 am in the High School gym. See you there, LOUD AND PROUD!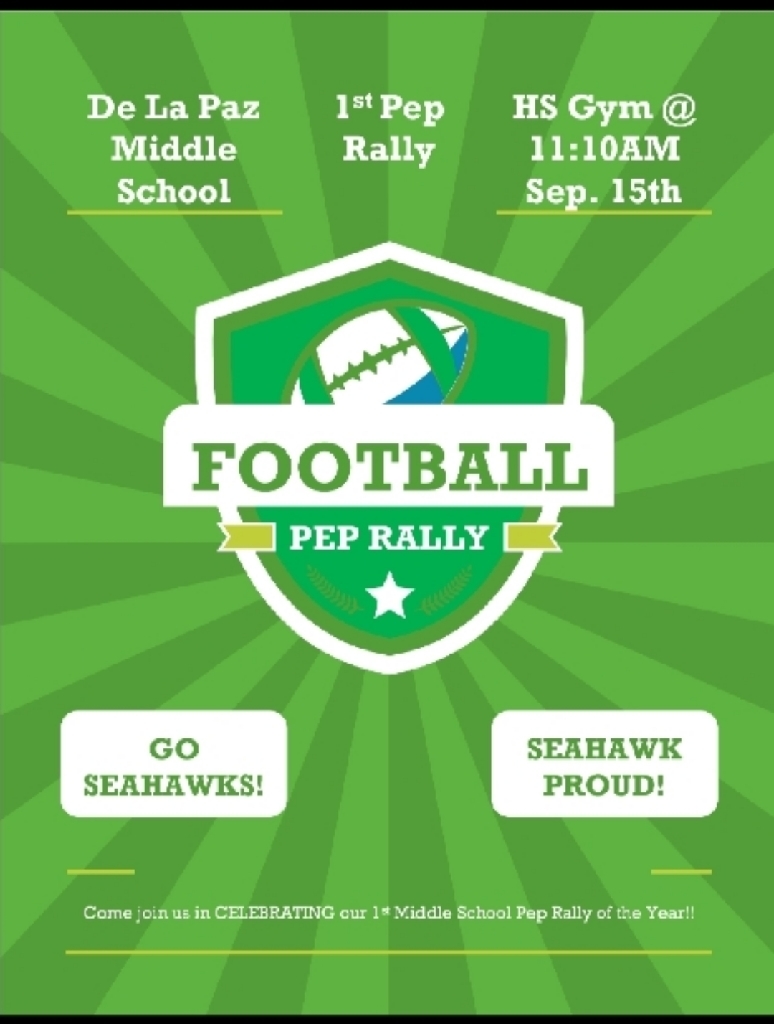 This Thursday 9/22/2022 from 10am-1pm, Riviera ISD will be having a Vaccine Clinic Sponsored by Walgreens. The clinic will be open to the community at the Gym Foyer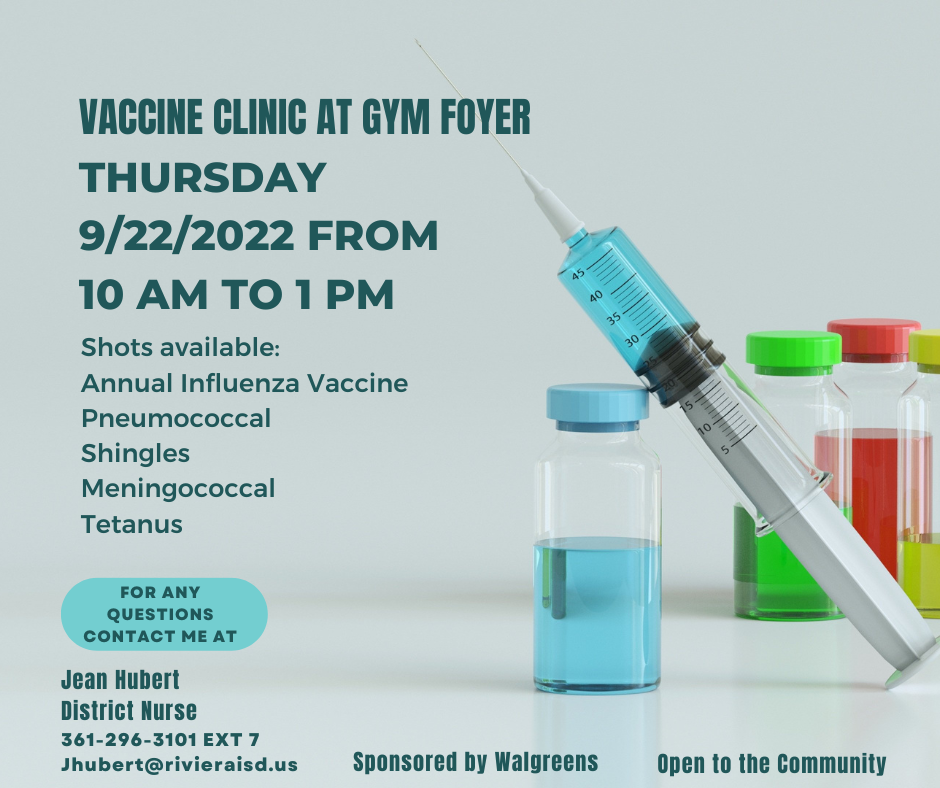 Join us tomorrow, September 14, 2022 at 7pm in the Riviera ISD Cafeteria for the first FFA meeting of the year! We will be nominating our Riviera FFA Homecoming Representatives, voting on Queen's Contest Candidates and going over important KKJLS dates and happenings. Please plan to be there! Dinner will be served.